Birthday Party!!
I wrote this on Word last night... for some reason my computer wouldn't connect to the internet. I tried like 3 or 4 times, but it just wouldn't do it. *grumble, grumble*
We had the birthday party, as planned. But wouldn't you know it… Syrina was too tired to be bothered with anything! I don't know if she's still not feeling well, if she's having a hard time adjusting to her school schedule after having 2 days off, or if it's just that she's had a busy couple of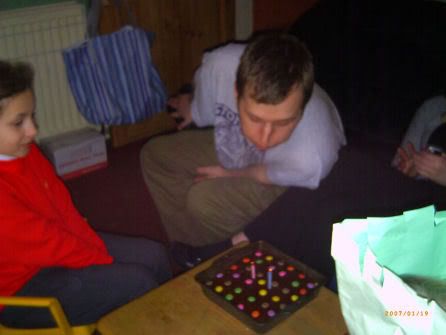 days at school. Maybe it's a combination. She DID have a busy couple of days, though… Thursday was her birthday party at school, and today (Friday), her friend Tommy had a birthday party. Tommy has Down's Syndrome, and has been in her class since Sunningdale (as were most of the kids in her class right now). I think there might be a pic or two of him on her
photobucket page
.
I made an "experimental" cake. See, I'd bought a cheap-o store brand box of brownies just to try
out – simply because it was less than half the price of the Betty Crocker ones (you have NO idea how excited I was the first time I saw Betty Crocker Brownie Mix!!! *lol*). They weren't all that good… but on the side of the box was a recipe for a brownie cheesecake! That sounded SO yummy that I just HAD to try making it. And since Syrina's and Blake's birthdays were coming up, I figured it would be a perfect time to try it. It went over like a charm. Even Caitlin's friend Natasha – who was here for the party – said that it was the "best cake [she] ever had!" *lol* And even as tired as Syrina was, she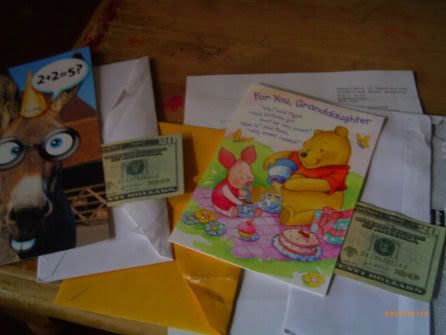 sat up long enough to have a piece of cake… and then went right back to sleep.
She was too tired to come and help blow out the candles, though. That's why there's a blurry (sorry 'bout that) picture of her lying in bed. She couldn't be bothered to get up. Caitlin even asked her "do you want to come blow out your candles?" Syrina shook her head "no" at her! *lol*
Vicci came back for the party. Chloe had a great time "doing" her hair. *lol* She mainly just brushed it and put little ponytails in it, but she sat here on the couch with her for a couple of hours just doing Vicci's hair.
Grandma sent birthday cards for both Syrina and Blake, with $20 each in them. They arrived today – perfect!!! – so I took the money into town, exchanged it for ££s, and went shopping for them. Blake got some mountain climbing gear, and Syrina got a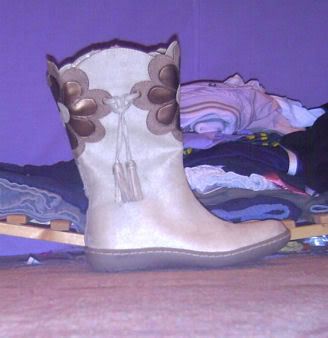 cute pair of boots.
I really wanted to get Syrina a nice warm pair of pj's for her birthday. She has one pair – but ONLY one – and she really could use some more. The funny thing is, this kid has pj's coming out the ying-yang, but only ONE pair of WARM pj's. Unfortunately, I couldn't find any in her size. Oh, I found warm pj's alright… but only in the terror twins' (Lexi & Chloe's) sizes (and they happened to be on sale – 2 for £6, so I did get them for the TT). So I wandered around, trying to find something nice for her, and that's when I saw this sweater. It's "SO in fashion" right now, and I thought it would look absolutely adorable on her. Not to mention
the color – brown – which means that even if she happens to drool food on herself, it's not going to be all that noticeable – if at all. And it matches the boots perfectly! Now she just needs a nice pair of leggings and she'll look like a fashion model!
Methinks I might put her in her new sweater and boots for her appointment on Tuesday. Why the heck not, right? :)
Labels: 12th Birthday, party, presents